Australia's Leading Watch and Jewellery Distributor
West End Collection is Australia's leading watch and jewellery distributor, managing the distribution of major international brands to the biggest chain stores, department stores as well as independent retailers throughout Australia, New Zealand and the Pacific Islands.
As a leading brand ambassador in Australasia, West End Collection represents major international watch brands including premium Swiss brands such as Maurice Lacroix, Roamer, Jacques Du Manoir and Philip Watch. Premium fashion brands including Maserati, Vivienne Westwood, Gant, Ice-Watch, Bering, Festina, Sector, Oui & Me, Paul Hewitt, Rose & Coy, Doxie Watches, Disney and Ingersoll. As well as premium watch strap brand Morellato and Braun Clocks.
In early 2019, West End Collection purchased GEORGINI Jewellery, a stunning, well established Stirling Silver Jewellery brand with international distribution and 15 years history. GEORGINI can be found in over 500 jewellery stores, department stores and successful online retailers around the globe.
West End Collection provides retailers with a balanced portfolio of brands and popular products, supported with a holistic management system and second-to-none after sales service. Support includes in-store branding and online stockist tools. As such, the retailer benefits from excellent return on investment; and marketing to maximise brand awareness and customer flow into stores.
West End Collection is committed to strengthening brand reputation and popularity in Australasia; ensuring the brands and products are accessible to this sizeable consumer market.
To find out more about West End Collection, head to the About Us page.
Are you a retailer and want to become a stockist?

West End Collection offer many tools for their stockists including an online Warranty search and access to many brand related downloads. Find out more on becoming a Stockist.
Retailer Online Ordering Portal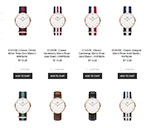 Authorised West End Collection retailers, access our Online Ordering Portal here, to place and track orders, receive special offers, access all of the latest releases and receive the lowest possible prices.
We're happy for you to call…
If you have any questions, as either a potential stockist, an existing stockist or a brand representative, please don't hesitate to call.
Australia: 1300 765 990 | International: +61 (03) 9553 3777